Walt Disney once said "If you can dream it, you can do it." Now there is a man who had a can-do attitude!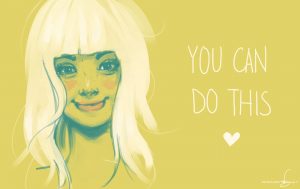 Those who accomplish great things have a can-do attitude.
When we look at our dreams, many of us say we can't do this or that because of time or money or some other frivolous excuse. The fact is that you CAN do what it takes to make your dreams come true and reach your goals if you believe you can.
Have you ever herd the saying "dreams don't work unless you do"? This is absolutely true. We must be willing to work for our dreams, do whatever it takes to reach them. If you plan to be successful in all that you do, you must never say can't. Where there is a will there is a way and you must be more willful than the obstacles that intend to make you quit.
Stop playing by others' rules, and stop comparing yourself to others. Stop thinking in negatively about why you can't do something and instead start thinking positively about how you can make things work on your own terms, using your skills and abilities.
Connect with Esther Spina on social media:
Facebook
Twitter
Instagram
Linkedin
Google+
Youtube