Try, Try Again!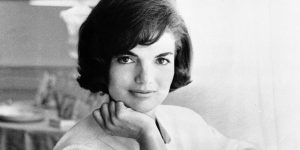 Jacqueline Kennedy Onassis became the First Lady at age 31, but her greatest accomplishment, according to her, was becoming a mother. "If you bungle at raising your children, I don't think whatever else you do well matters very much," she said. While Jackie identified herself as a wife and mother first, she did go on to become a famous New York editor after the deaths of her husbands. Her persistence allowed her to maintain focus all her life on self-improvement.
Jackie once said, "What is sad for women of my generation is that they weren't supposed to work if they had families. What were they going to do when the children were grown—watch the raindrops coming down the windowpane?" She has a valid point. If your life is outwardly focused—on your kids, your husband or even your job—what do you do when those things are gone?
There is also another lesson we can take from Jackie's life. Your greatest asset, whether in personal relationships, business or any other area of your life, is your ability to choose a task and stick to it until it is accomplished. You will be amazed at how much you can get done just from sheer tenacity!
Bethany Hamilton, the young surfer from Hawaii who at age 13 had her left arm bitten off by a shark, is a shining example of sticking to your goals no matter what. She was back on her surfboard a month after the near-deadly attack and won the Explorer Women's Division of the NSSA National Championships. Persistence paid off for Bethany, and it will for you too!
Showing persistence and maintain focus are key to achieving your goals. I do not know what your particular goals are, but I can promise you this: you will never reach them without persistence. The world is not designed to push you toward your goals; rather, the world pushes you away from the things that are good and exciting in your life. You have to push back against the current and ensure that you have the right attitude of tenacity and persistence to reach whatever goal you have in mind!
Connect with Esther Spina on social media:
Facebook
Twitter
Instagram
Linkedin
Google+
Youtube