Limit the Complaints and Watch Your Success Soar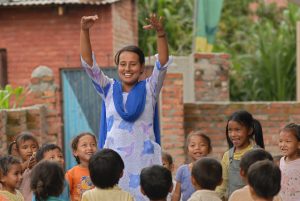 If you want to see what putting the principles of determination and tenacity into action can accomplish, the story of Manal Elzeen should inspire you. Manal was a high school economics and accounting teacher in the Sudan when unrest developed in that country. She knew that her life and the lives of her children were in danger and that she must get out of the country.

She sought asylum in the United States and, after a period of time, was able to come to this country and settled in Fort Wayne. However, she now faced another problem: she could not pursue her teaching career as her new state of Indiana would not give her a teaching certificate with her credentials. Determined that she would never give up, she instead put her training to work and opened a day care for children in her home.
Because she utilized her skills and worked hard, her business was a success, allowing her to support her family and even prosper in her new home. As Manal says, "If you want to get anywhere in this life you need to work hard and learn more. This is an opportunity to receive the support needed to be successful. I want to make my business great!"
How many of us complain when the slightest setback changes our plans?
When I think of the times I have considered giving up due to nothing worse than the fact that people did not react to me the way I expected, I am almost ashamed when I see the determination of a woman like Manal. Over the years, I have learned that if one thing is undoubtedly true, it is the fact that if you never, ever, ever, EVER give up, good things will eventually happen!
Determination is not blindly following a path, however. Perhaps this is where many people make their mistakes. You have to know exactly where you want to go. The more detailed and concrete your goals are, the more likely you are to achieve them! As my own niece Janelle Cline said, "Those who accomplish great things in life have what I call a 'can-do' attitude. They are determined to 'can-do' whatever is needed to accomplish their goals."
When you are determined to pursue a well-identified goal, and when you never give up on that goal, you are well on your way to accomplishment!
Connect with Esther Spina on social media:
Facebook
Twitter
Instagram
Linkedin
Google+
Youtube