Please welcome Janelle Cline – our very first guest blogger! Janelle, I am so thankful for this article, it is full of great ideas and tips for working moms with home businesses! The entry below features just two of her genius strategies – the rest of which can be found here.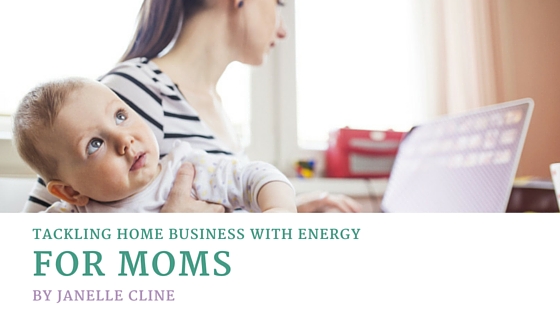 Face it, mom's needs often seem to come last. We are so busy putting everyone else first–husbands, partners, children, parents – and playing so many different roles in life–mother, wife, businesswoman, daughter, sister – that we lose sight of who we really are which in turn zaps our energy and productivity at home.
Parenting is one of the most rewarding jobs in the world, but it's also exhausting. You are on duty 24-7, no weekends off or sick days. It's easy to focus on all of your many roles you play in a day and neglect yourself, but that's not good for you, them, or your bottom line.
But you can't always stay on the back burner. Instead, here are some quick and realistic tips on how you can recharge your own energy tank while working from home.
Organize Your Morning Routine.
Are your mornings filled with tired sleeping heads, arguments, impatience, stress and aggravation? No one likes to start off her day in a hurried frenzy. If you start off your day in hurried chaos chances are you will expect the rest of your day to continue the same way.
I personally like to make sure my kitchen is spotless the night before – all the dishes done, counters cleaned, coffee pot prepared with timer set. This habit absolutely drives my husband crazy but if it were up to him there would be dishes in the sink for days. I've explained to him instead of waking up to stinky dirty dishes and visually feeling overwhelmed first thing in the morning with clutter and cleaning, I've found I wake up to a sense of calm and organization as I sip my first cup of coffee and think about my day ahead.
My children respond better to my chipper mood rather than waking up to a tense mother.
Take Time for Yourself
If you take an hour or two to yourself, for whatever nourishes you, the rest of the day (or week) will be easier and fun! Leave the kids and go to brunch with your girlfriends on the weekends or do your Zumba class in the evenings. Your children will develop independence, grow up knowing it's important to take good care of themselves, and most importantly see that they're all right without mom hovering nearby constantly. Sometimes taking a break from parenting can give you the energy you need.
If you are having trouble carving out time for yourself, start small. Don't spend your extra time rushing around to finish your to-do list, it will never end. Instead, prioritize tasks that are going to make you money first and eliminate tasks that don't absolutely have to get done. Write it down (don't forget 'me' time), if it's on your calendar, you can plan and work around it. And the next time you have some breathing space, don't fill it with errands. Instead, just breathe.
About the Author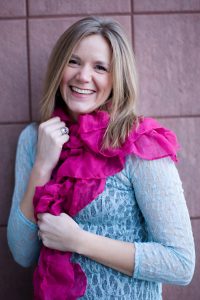 Janelle Cline is an Executive Consultant with Ambit Energy and uses her company as a vehicle to empower women to strive to elevate their financial lives. Having worked as a professional engineer in the corporate grind the last 13 years, this wife and mother of two recently became financially free and has become passionate about teaching motivated busy women how to achieve their financial freedom. She is sharing the dream of business entrepreneurship, owning your time, and creating passive income by helping people discover a money-saving service…and to also help them change their financial circumstances in an industry that is revolutionizing America. If you're ready to make a change, create passive income, own your time, or want to elevate your financial life, visit www.MakeExecutiveIncome.com, Janelle can show you how!