Make 2022 the year you go for your BIG DREAM!
By, Esther Spina
Business Coach for Ambitious Businesswomen & Female Entrepreneurs



Inspired by Chapter 13 of my Amazon Best-Selling Book,


What It Takes and Why You Want to Be One,


"LIVE A PASSIONATE LIFE!"


For a limited time for the Holidays,
get the book and audio CD for free!


(Just pay $3.95 for shipping!)



We've all been there at some point — in a job you don't really love, living paycheck to paycheck, and struggling through another day at a place you're not inspired to be just to pay the bills.


As a female entrepreneur who has reinvented herself many times after hard times and failed business ventures, I know how important it is to do what calls out to your soul.


To get to a place of satisfaction and fulfillment, you have to constantly evaluate and refine your journey as a businesswoman.


In this week's blog, I'll give you three tips for turning your passion into your career, because you know what they say . . . Do what you love and you'll never work a day in your life.



1. Find Out What You're Truly Passionate About


You were born with unique skills and talents that are little clues about your life's purpose. It's up to you to uncover those gifts and follow where they lead. If you're struggling to find your passion, try some of the techniques below.


Look at what you did naturally as a kid — Did you play school with dolls or spend hours in your room solving puzzles? That may mean you are a natural teacher or problem solver. As adults, it's common to choose a career based on other factors like money, status, or necessity. But, you had instincts as children that were signs about your natural talents. What were yours?


What would you do for free? Is there something you could do for hours whether someone paid you or not and be completely content? Look at those things because they're a sign of your true passion. Then all you have to do is find a way to monetize it.


How do you spend your spare time? You can turn hobbies into entrepreneurial pursuits or careers if you put enough effort into them0. Are you crafty or have a special skillset? For example, there was a woman who made purses for fun. Once she put them on Etsy her business took off and she was able to quit her day job. The things you love to do for fun are the perfect starting point for future endeavors.


What brings you the most satisfaction? Is it helping people, performing, public speaking? Whatever it is, follow what feels good and that you're naturally good at. Following what fulfills you is a surefire way to find a career that aligns with your purpose.


What DON'T you like to do? Identifying aspects of work you don't enjoy, helps you narrow your focus and revise along the way. Did you find out you hate marketing but you're good at networking? All of those little insights assist you in refining the type of path you may want to take in your future career. If you're not happy where you are and what to make a shift, ask yourself what parts of your job you do and don't want to carry forward into your next line of work.


I highly recommend you write all of this down in the same place so you can reflect on it. The Ambitious Woman Journal is a great place to log your thoughts to get clarity and direction for your journey. Get it for just the $2.99 shipping cost here.



2. Put a Practical Plan in Place to Reach Your Career Goals


As any businesswoman or aspiring female entrepreneur knows, it's not enough just to have a dream, you have to make goals and take thoughtful steps to make them a reality. Here is some advice from the top female CEOs and entrepreneurs I admire for taking your vision from the intangible to the tangible.


Hire someone to draft a business plan for you — Not good with numbers? No worries! There are professionals who can do this for you and it ensures you set yourself up for success. Plan ahead to prevent the pitfalls that occur when you don't strategize for the long term.


Do the market and customer research necessary to take your dream for your head to the page. You'll need to research your competitors, clients, and audience to make that vision a reality. What are their deepest pain points, desires, and goals?


Network to meet the people who can help you get your vision off the ground. Learn from other female entrepreneurs or women CEOs who have done what you want to do and benefit from their experience. My Ambitious Women's Conference is a great place to meet like-minded businesswomen and mentors who'll help support you through your dreams and inspire you with their stories.


Don't forget the process of starting over in a new career or creating your own business should also be exciting and fun! Get playful when picking out business names and logos and you'll enjoy the process of becoming the next successful businesswoman or female CEO so much more.



3. Silence the Doubt and Fear That Hold You Back


If you're starting a new business venture or becoming an entrepreneur for the first time, it's normal to be feel afraid, alone and overwhelmed. Going for your loftiest goals can be daunting, but know that many women have felt the same way you do now and triumphed to reach their goals.


Here are 10 stories of female founders who overcame their fears to make a difference in the world with their work. You'll notice every businesswoman had to tackle similar difficulties, many of which are in your mind, including:


Overanalyzing everything ahead of time, which keeps you from doing anything. The #1 advice I can give you is JUST GET STARTED and learn as you go. You can't learn it all from the sidelines or from a book, you have to take action.


Take a good look at your beliefs and re-wire negative thought patterns. Top female CEOs and businesswomen will tell you mindset is the key to success.


Release fear and anxiety by focusing on one task at a time. We tend to get overwhelmed when we think too far ahead. Instead, take it one challenge at a time and focus on the chore ahead of you.



Read more inspiring stories of successful female entrepreneurs
and top CEOs who went for their dreams in my book,


What It Takes and Why You Want to Be One


***Claim Your Free Christmas Gift***


For this month only, get both the hardcover book and audio CD for FREE!!!


Just pay the low $3.95 shipping cost below.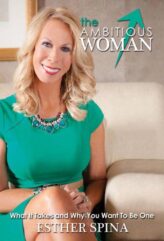 It's my Christmas gift to you as a thank you for being part of my tribe of Ambitious Women!